Need to start working my way around to The big box stores... need a mig/tig welder, prefferably Lincoln Electric... Lin. Elec. seem to have all the right pieces and parts for a novice metal-smith. NOW, noobs need to start somewhere and $2300 is not something that sounds doable. What say you?
Don't forget, cutting (some torch), gas requriements and rods...
Lin. Elec TIG - $2500 +/- Doable?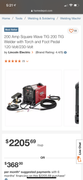 Lin. Elec. MIG - $600 +/- More/Less Doable?